How to Optimize Your Restaurant's Website
If you're a restaurant owner, you know that your customers' experience starts long before they walk into your restaurant. In 2021, customers are looking up your menu, reviews, and online ordering options before taking a trip to your restaurant. This means that having a web presence is everything for a restaurant.
More people are ordering food online than ever before, which means that restaurant owners have to keep their websites well-designed and easy to navigate if they want to compete.
Here are a few tips to optimize your restaurant's website:
Streamline Online Ordering Services
More and more people are starting to order food online. If you have online ordering capabilities on your site, make sure they're easy to find. If you don't, consider adding an order online option for customers to easily purchase your menu items. To optimize your restaurant's website, make sure customers have an effortless ordering experience by guiding them each step of the way to checkout.
In some cases, your online menu can update in real-time with your POS system menu. So, when seasonal items get taken off the in-house menu, they're taken off the online menu as well, eliminating confusion.
Let customers create their own profiles that can save their ordering history and payment information. This reduces the number of steps to get food ordered, making customers more likely to repeatedly order from your restaurant.

SEO Services
When potential customers get hungry, they ask their search engine to look up restaurants they might like by searching keywords, like "pizza place" or "Mexican food near me." Search engine optimization, or SEO, is one of the best tools to garner more web traffic. As a restaurant owner, you can optimize your restaurant's website to appear in the search results when someone types in keywords related to your restaurant. That way, potential customers will see your restaurant first and be more likely to order food from you.
SEO can be complicated, as there are hundreds of factors that search engines consider when determining how highly your site should rank in search results. If you're interested in incorporating SEO to optimize your restaurant's website, consider hiring a team of professional writers to take care of SEO services for you.
Take Pictures of Your Menu Items
In a culture where people whip out their phones and post a picture of their food before they start eating, it's obvious that people care about how food looks. If you take the time to spruce up your online menu pictures and interior images, you'll boost your restaurant's aesthetics, making the restaurant more welcoming and the food look more delicious.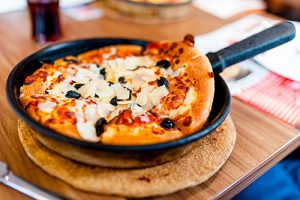 Your phone might be able to take high-quality photos, but you should consider hiring a professional photographer or using a professional camera to make the images even more clear. Professional restaurant photographers have high-tech gear, understand lighting, and can frame and edit photos to your liking. They also know trade secrets to make food look even more fresh and appetizing in photos.
Take photos of the inside and outside of your restaurant, your menu items, a few drinks, and your menu. If you can get pictures of employees or customers, those will help potential customers get a feel for your restaurant's personality. This works to optimize your restaurant's website by increasing professionalism and showing effort toward bettering your customers' experience.
Increase Website Usability
When you have a website, the least you can do for your customers is make sure the site functions. There's nothing that will turn a customer away faster than visiting a website that confuses and frustrates them. Make sure your restaurant's address, phone number, menu, and reviews are all available on your site and easy to find. Your website's pages should be optimized for mobile use as well.
As more people visit your site, you'll learn what works and what doesn't in terms of usability. Test your site out on a small group of people before you launch updates so you can measure how well it will be received by your audience.  Also consider hiring an experienced restaurant website design company that already knows best practices and how to boost your restaurants sales with proper placement, photos, and text.
If you're a restaurant owner trying to compete with other restaurants in a post-COVID world, dedicate resources to optimizing your restaurant's website. You'll see results in no time.
Curbside Rocks provides business solutions to restaurants nationwide. For information about how we can bolster your website, contact Curbside today.